When Steed and Mrs Peel witness a sudden death at a neighbouring table in a five star restaurant, they become involved in a bizarre puzzle: why are people dropping dead after eating duck? And what is the connection between a doctor, a gamekeeper and a painter? Their investigation leads them to a ruthless conspiracy, and a plot being hatched in the wilds of the East Anglian marshes.
In the eerie wilderness of an Essex marsh a plot of ruthless immorality is nearing fruition, a plot born of madness, genius and revenge.

In the luxury of a world-famous restaurant John Steed and Emma Peel embark on an investigation fraught with dangers that even the Avengers have never met before, an investigation prompted by an unexplained out-break of death.
Dead Duck was the second and final Avengers novel to be co-written by actor Patrick Macnee (John Steed) and journalist Peter Leslie.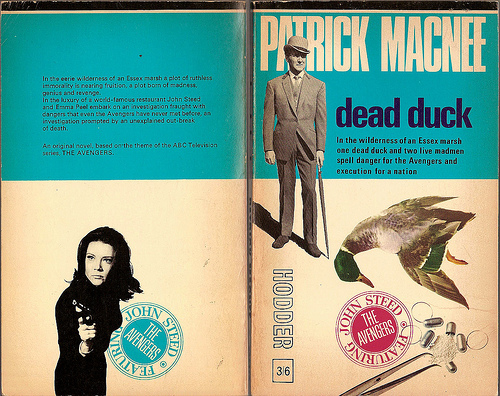 O Pato Morto

(Reissue English release)


Translation into Portuguese:
MM Ferreira Da Silva

paperback


Release Date
:1967

248 pages


Manufacturing:
Portugal


Publisher:
Dêagá.
Paperback

Dead Duck


Release date:
May 1966

160 pages


Manufacturing:
United Kingdom


Publisher:
Hodder
Paperback

Dead Duck


Release date:
October 1994

160 pages


Manufacturing:
United Kingdom


Publisher:
Titan Books
Carnards Mortels

(Reissue English release)
Translations into French:
Martin Winkler

paperback


Release Date:
November 1995

189 pages


Manufacturing:
France


Publisher
: Huitième Art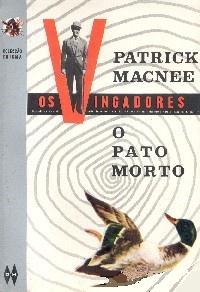 Paperback

Dead Duck


Release Date:
1 September 1998

160 pages


Manufacturing:
USA


Publisher
: TV Books