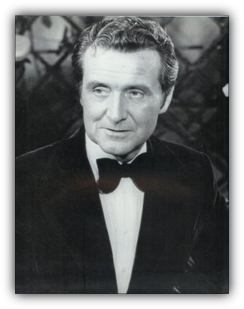 Patrick Macnee is certainly best known for his role as John Steed in The Avengers, but in his view the best work he has ever done was in Anthony Schaffer's stage thriller Sleuth.

He was very proud that the play was a great success and enjoyed a very long run on Broadway in New York between November 1970 and October 1973. Patrick's involvement in the production began in 1972 when Paul Rogers left the production. When offered the role of Wyke, Patrick was initially convinced that it was outside his dramatic range. However, he took the role on, realising that it was his greatest ever challenge as an actor, and much to his surprise made it the towering success of his stage career. He assumed the role from 3rd July 1972, and it is a measure of his achievement that the production endured for a further sixteen months, the Music Box Theatre run ending in October 1973.

The play, which involves a mystery writer who seeks to revenge himself against his wife's lover, then went on tour around the United States from December 1973, with Patrick retaining the lead role. He received the Straw Hat Award for his performance in Sleuth on May 16th 1974 in New York.
He says in his autobiography that he was "both thrilled and amused with the award" and sent it to his mother "as she still persisted in calling members of my profession 'that stew of ragamuffins'." The touring production ended in May 1975 at the Pheasant Run Theatre in Illinois, though Macnee would play the role several times again in the USA and Canada.

When Patrick brought the curtain down on his stage career in January 1988, due to arthritis (he revealed in a interview that he "could get up the stairs but could not get down again"), he did so in Toronto in a fresh production of Sleuth.

Sleuth performances

Music Box Theatre, New York, USA
3 July 1972 - April 1973 / 21 May - 13 October 1973

Paper Mill Theatre, New Jersey, USA
28 December 1973 - 20 January 1974

Westport Country Playhouse, Connecticut, USA
17 - 22 June 1974

Ogunquit Playhouse, Maine, USA
24 - 29 June 1974

Falmouth Playhouse, USA
from 1 July 1974, about a week

Pocono Playhouse, Idaho, USA
9 - 13 July 1974

Lakewood Theatre, Maine, USA
22 - 27 July 1974

The Cape Playhouse, Massachusetts, USA
29 July - 3 August 1974

Ivoryton Playhouse, Connecticut, USA
5 - 10 August 1974

Playhouse in the Park, USA
from 12 August 1974, about a week

The Westchester Playhouse, New York, USA
19 - 24 August 1974

Candlewood Theatre, Connecticut, USA
26 - 31 August 1974

Coconut Grove Playhouse, Miami, USA
21 January - 2 February 1975

The Peachtree Playhouse, Georgia, USA
4 - 9 February 1975

Pheasant Run Playhouse, Illinois, USA
1 April - 25 May 1975

Lakes Region Playhouse, New Hampshire, USA
30 June - 7 July 1979

Stage West Dinner Theatre, Winnipeg, Canada
22 July - mid August 1981

Coconut Grove Playhouse, Miami, USA
26 December 1984 - 28 January 1985
Tour in USA (1974/75)

Role: Andrew Wyke
Cast (initially): Brian Murray, Stanley Rushton, Robin Mayfield, Liam McNulty
Main Cast (late): Jordan Christopher (from 7 November 1972) Curt Dawson (from 6 August to 13 October 1973)

Director:
Clifford Williams
Writer:
Anthony Shaffer
Settings:
Carl Toms

Notes:
Patrick Macnee replaced Paul Rogers.
From 9 April - 20 May 1973 George Rose replaced Patrick Macnee.